Berlin residential investment
2023-02-24 05:20:13 | INSIGHTS
Berlin Residential Real Estate Market Update
AUTHOR:
Alexandra Harrison
Real estate markets are forever changing, as such we make it our business to stay on top of current data in order to best advise our clients. Here we share our comprehensive analysis based on the latest insights.
Overview
Since 2015, the Berlin market has been listed as one of PWC and ULI's top 3 investment prospects. Despite the unprecedented impact of the pandemic globally, Berlin has demonstrated resilience, remaining robust and sustaining its market growth. House prices, especially in the new build sector, are rising despite the war impacting all of Europe.
What is Driving Growth?

1. Chronic Undersupply of Housing
Overall Berlin has suffered from an undersupply of housing for years. The well publicised rent cap on older buildings has made for an unusual renters market, with tenants staying in apartments for decades, thus creating a stagnant market. Permits for new builds are hard to come by and Covid only exacerbated the issue. As such, rental units are in demand, with units being rented out within a two-week period, and a residential vacancy rate of a mere 0.9%.
There are as high as 76 new build rent enquiries per week in the Berlin market. To put that into context, cities such as Cologne, Munich, and Stuttgart, have only 18 to 20 new build rent enquiries per week. These figures highlight the unique opportunity of investing in Berlin.
2. Buoyant Economy meaning an increase in expat population
Thanks to lucrative jobs created by future-forward companies like Amazon and Tesla, expats are moving to Berlin. As of 2012, there were 503,945 expats and 2,965,676 Germans in Berlin. By 2021, the population of expats has steadily increased by around 300,000 to 811,334, while the population of Germans has been maintained at 2,964,146 residents. The rise in expatriates moving to the city has only further exacerbated the housing crisis.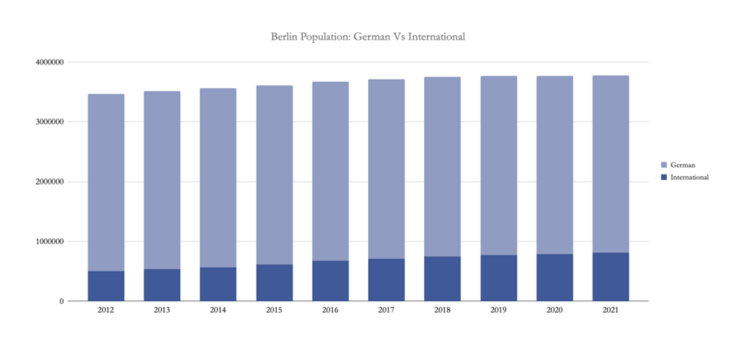 These figures give us an insight as to why the rental market in the central locations in Berlin is so strong. It is estimated that Berlin as a whole has an apartment deficit of 5.3%, a total of 106,000 apartments. Breaking that number down we estimate that Neukölln has a 9.8% deficit & Friedrichshain 8.8%, both central locations which attract expats who aren't interested in the suburbs. In general they want to live close to work with the convenience that central locations offer. These criteria are a clear focus for us when choosing projects to share with investors.
2023 and Beyond - Berlin in numbers
Berlin has continued to transform significantly over the past two decades. A prime example of this is the Estrel tower featuring the highest hotel in Germany, scheduled to open in 2024. The total investment volume of the project, excluding land, is estimated at €260 million. Described by the mayor "We want to usher in a new era for our capital city. A new era calls for a new look. And this will become a part of the face of Berlin."
Unemployment rates have been steadily falling since 2005 which is a good indicator of a buoyant economy. Covid, understandably, put a dent in the falling figures but as of 2022 the figures have returned to normal.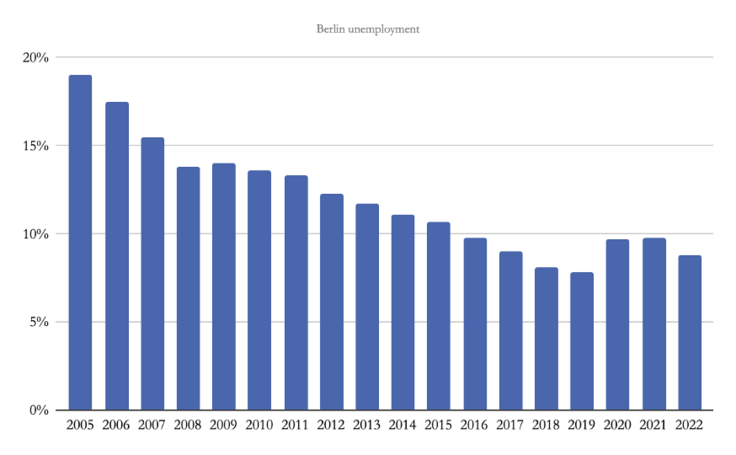 Rent pricing -
This development of business has impacted rents, with the last 5 years showing a 52.8% increase in rents in the new build sector. With new build rents currently averaging at 22.5 EUR per m2.
Sales pricing -
Data from the official urban development forecast predicts that by 2040 Berlin will have reached a population of almost 4 million making Berlin a safe investment for years to come.
We have seen this first hand, analysis of comparables show that past Volsung projects have already seen great returns on investment. As an example, our Handjery project sold at an average of €6,336 per square metre. Prices are now soaring, reaching as high as €12,000 per square metre.
What Areas of Berlin Offer Great Returns on Investment?

Neukölln
Over the past few years, Neukölln has experienced a significant influx of residents, leading to a transformative change in the area. Old buildings are being renovated, and new business skyscrapers are being proposed, further enhancing the appeal of the neighbourhood. With the closure of Tempelhof airport, Neukölln now boasts one of Berlin's most popular outdoor spaces. The recent opening of the BER Airport to the south has also put Neukölln in a prime position for international travel. It is no surprise that the top market segment in the area has seen a remarkable 13.3% increase in rental prices.
Friedrichshain
In recent years, the area has experienced tremendous growth, with the flagship project being MediaSpree, a 3.7-kilometre-long development along the riverbank. This development consists of residential spaces and offices designed to attract global media, IT, and start-ups. It has already attracted major companies such as Amazon, Daimler, Universal Music, and WeWork. Due to this ideal mix, Friedrichshain is one of the most densely populated areas in Berlin, with residents paying an average of €10,121 per square metre for new builds.
Despite its popularity, Friedrichshain has one of the lowest numbers of units granted planning permission, with only 516 units granted in 2022. This means that new builds in the area are scarce and highly sought after as properties promising high returns on investment in the future.
Key takeaway
It is clear that Berlin's real estate market provides a promising opportunity for residential real estate investment. Despite the challenges posed by the pandemic, the market has displayed remarkable resilience and growth. The increasing demand for rental properties, as evidenced by the high volume of new build rent enquiries in the city, coupled with the buoyant economy that has continued to attract expatriates, all point towards a consistent need for residential properties in Berlin. Our advice would be to focus on central locations which appeal to expats to make the most of your investment.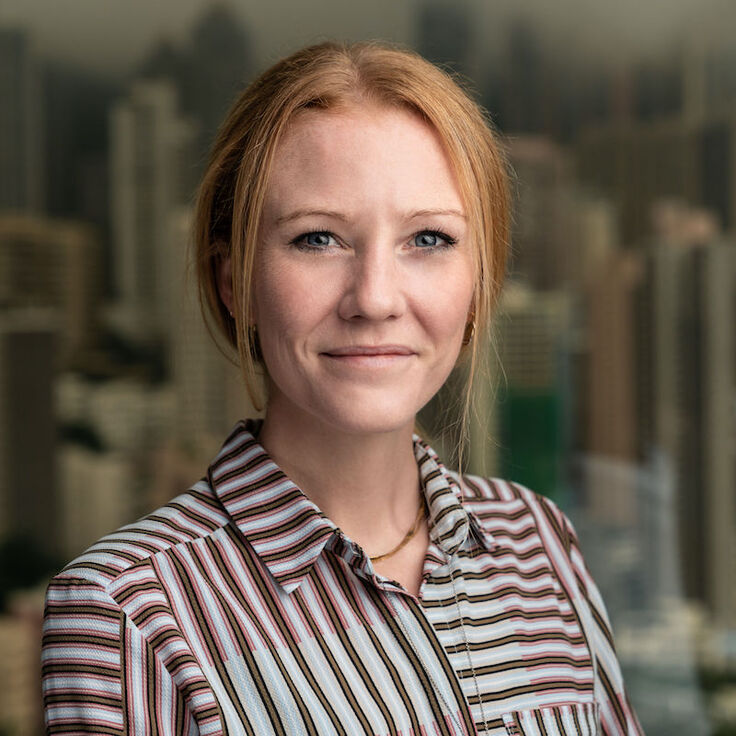 AUTHOR:
Alexandra Harrison
Associate
alex.harrison@volsung.com