Berlin residential investment
2023-02-20 06:47:54 | INSIGHTS
Berlin, first time investors guide
AUTHOR:
Alexandra Harrison
Real Estate Investment can be daunting, especially when you're based overseas investing into an unfamiliar country. Here we have laid out the basics to help you understand just how easy it is to invest in Berlin real estate as a foreigner.
Almost anyone with a secure job. We have clients from Asia, South America, Middle East & Europe who have all successfully secured a mortgage and arranged purchase without even having to visit Berlin.
What financing can be achieved?
We have multiple mortgage providers who we work with to help you secure financing. Our go to lender is a pension fund which offers a 60% LTV, 3.91% fixed interest rate for 10 years & 3.85% for 5 year fixed. Our clients have had a 100% success rate with this lender. We also work with banks who may be able to offer higher LTVs but at higher rates.
Once you have signed the purchase agreement we will introduce you to our long standing partners at Berlin Finance (mortgage consultants), they are very familiar with working with foreign investors. They will ask you to fill in a form to access your current financial position and will suggest the lender they see as most appropriate.
If you have a secure job and 40% of the purchase price in the bank, you should have no trouble in securing a mortgage.
How does the Acquisition process work?
1 - First step, reach out to Volsung to express interest in one of our projects. A member of our sales team will be in touch to take you through the project, return on investment, process of acquisition and help you to decide which unit is best for you.
We will provide you with a cash flow which takes you through the costs you will be facing at each stage of the project, any costs post completion & the returns.
2 - Once you have decided on the unit you would like to purchase we will provide you with a reservation form. At the point of submission of the reservation form you will be asked for a deposit of either USD 5,000, EUR5,000 or HKD40,000. This is returned to you upon receipt of the 1st property payment.
3 - The next step will be to sign a purchase contract.
We will make an introduction to our recommended lawyers, VPMK, who are

an established law firm, well regarded in the Real Estate industry in Berlin. VPMK are briefed on all Volsung projects and understand the guidance needed for foreign investors. They, along with Volsung will be able to guide you through the process. You will sign a POA which allows them to sign the purchase agreement for you in Berlin.
We will have sent your reservation form and details to the notary in Berlin. They will be in contact with you & VPMK to arrange signing of the purchase agreement.
4 - At the same time we will introduce you to our mortgage providers to get the process started.
5 - Payment - German law states that you must pay percentages of the purchase price alongside construction milestones. The milestones are laid out in the cash flow so you will be well prepared. Your mortgage will kick in after the first milestone. The percentages follow - 25%, 28%, 12.6%, 12.6%, 2.1%, 2.8%, 16.9%.
6 - Towards completion date we will introduce you to our Lettings & Management partner to ensure your apartment is let at the earliest possible date. We will also introduce you to Tax advisors who can help you to file relevant documents & submit the most amount of deductibles possible.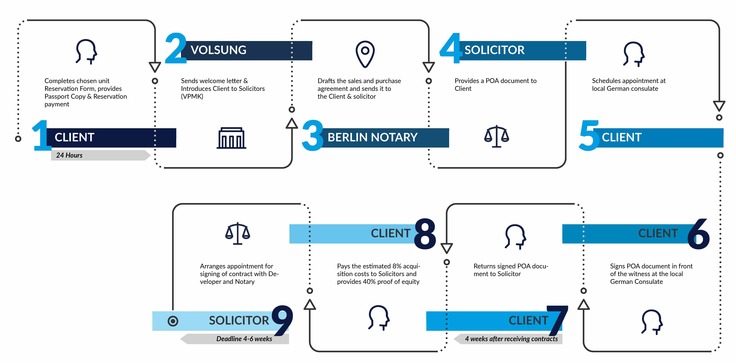 Who helps guide me in this process?
Volsung is there every step of the way. We are always happy to answer any questions & point you in the right direction. We will provide construction updates throughout so you can be sure everything is running smoothly & on time.
1 - Why Invest in Berlin?
The most obvious reason to buy a residential apartment in Berlin is that from a supply standpoint it has one of, if not the lowest, residential vacancy rates in the world for a capital city at only 0.9%. This tight supply has led to both strong capital and rental growth in the city which is expected to persist for the long term, with planning permits increasingly difficult to come by and no solution to add more supply onto the market in sight.
2 - What are the Acquisition Costs in Berlin?
Transfer tax – 6%
Land Reg – 0.5%
Notary – 1%
Legal – 1%
Total Acquisition costs: 8.5%
3 - Do I need to pay Agency Fees in Berlin and if so what is the market standard?
The agency fees that may be charged to the buyer differ in Germany's various states. In Berlin these have been lowered recently, so the maximum amount that may be charged is 3.57% on top of the purchase price. This amount is inclusive of VAT.
It is a group wide policy at Ten Brinke (our developer partners) that no agency or consulting fees may be charged by any agents on top of the purchase price for any Ten Brinke developments.
4 - There is already a notary involved, do I need a lawyer?
It is law in Germany that a notary be present at the signing of contracts otherwise known as notarisation. This notary does not represent either the buyer or seller and whilst they will answer basic questions they are legally not allowed to provide opinions or input on any aspect of the purchase. Their function is primarily associated with working with the land registry and creation of the land folios. A lawyer is needed on the client's side, working with banks for mortgage disbursements, helping with handover of keys. Any issues or questions that might arise the lawyers will be there to help from signing to completion of the project.
5 - Are there Rent Controls in Berlin?
There are rent controls on all residential apartments in Germany that were built prior to 2014. The rents for these apartments must follow rules set out by the German Government which determine the amount of rent that can be charged as well as in what circumstances and how much this rent can be increased. Typically speaking the rents for apartments built after 2014 will be between 50% - 75% higher than those under rent control, but this can end up 100% or more in prime locations.
6. Is there Tax on Rental Income?
The rental income in Germany is all taxed according to the income tax brackets. See the left hand-side chart. It's important to note that for non-German tax residents the initial 9,744 Euro is not tax free and this would be taxed at the 14% rate.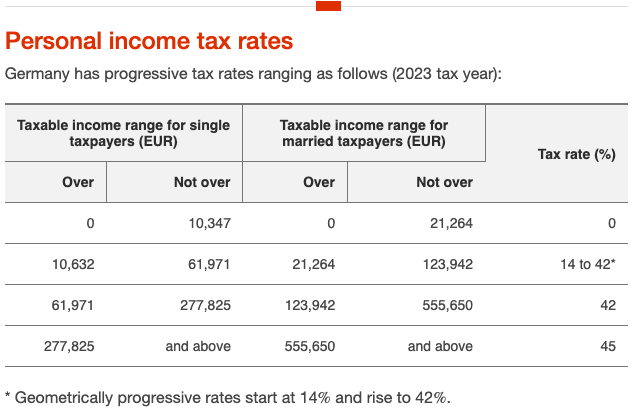 Source: PwC
7. Capital Gains Tax
In Germany there is no specific capital gains tax rate - you are taxed according to the income tax brackets as outlined above. However if you hold for 10 years from the point of signing the purchase agreement you are exempt from any taxes on capital gains. In Berlin, as the buyer takes on all costs associated with a purchase, you are able to exit the investment after this point tax free.
8. Can I apply for a mortgage and on what terms?
Unless you are living in any of the countries blacklisted by the EU you are virtually assured to get a mortgage with an LTV up to 60%. The typical mortgage is with an interest rate fixed for 10 years and the Loan term is flexible based on retirement age. The interest rates you receive will vary between 3.85% - 4.5% based on the size of apartment you purchase, your employment status and whether you are willing and able to travel to Germany to sign the mortgage.
9. How will I rent my apartment out?
Three months prior to completion we would reach out to you to recommend a lettings and management agency. Typically speaking we recommend clients to rent apartments unfurnished. Furnished apartments cause more hassle and costs for little extra return. Unfurnished apartments are called "cold" this means that the tenant pays for the majority of any house management fees (common area upkeep etc) and for their bills.
10. I've heard that the rental agreements in Germany are quite heavily weighted towards the tenant, and therefore can be quite a costly & lengthy process to remove a 'bad tenant'?
It's true that in Germany the rental agreements do favour the tenants more so than in some other countries. Two ways to mitigate this risk are by looking very closely at the prospective tenant before accepting, plus the type of property and location you are purchasing.
As a general rule it is rent controlled properties where you have these issues, so purchasing new build (i.e. built after 2015) properties in more affluent areas will mean there is a very low risk of any issues.
If you still have some questions unanswered, please feel free to reach out to us and a member of the Volsung team will be happy to help.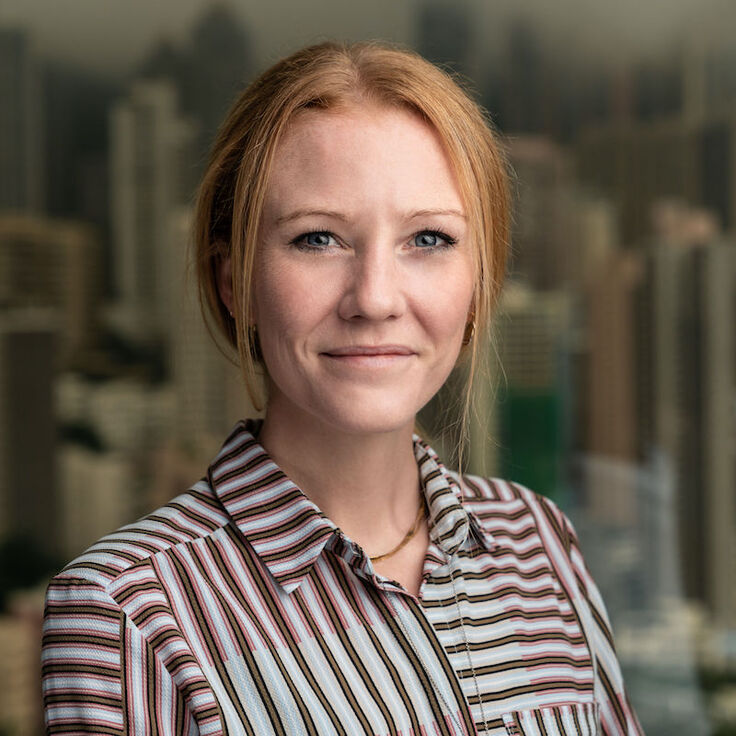 AUTHOR:
Alexandra Harrison
Associate
alex.harrison@volsung.com